Why Shared Hosting? Indeed! It is a good question and is answered here with answers to similar common questions about shared internet servers (the type of servers we all need to share our websites on the internet).
What are Shared Hosting Benefits?
Buying, installing and maintaining your own internet server or your website is the ideal way to make a website available on the internet.  However, very few people have the budget or technical capabilities to build, configure, and operate a standalone web server for their website. Especially when they start, the budget will be limited, or minimal and your big idea may bring you a fortune, or may not be quite as good as you hope… So, most people settle for a shared hosting service to provide a home for their website, hoping to be able to upgrade their hosting as their website brings in revenue to pay for improvements.
There are many thousands of bloggers and small businesses who use shared-hosting to set up their own website without any hassle or trouble on their end. Running your own server would be expensive, and by using a shared hosting service provider, businesses and individuals can save themselves money and hassle while enjoying the benefits of having their own website. Shared hosting plans offer convenience. You don't need to worry about much besides building the website and maintaining it. All of the technical work is handled by the shared hosting service. If you want, you could handle application installations and file permissions on your end. But most often the customer simply uses the built-in applications to build their websites without needing to be involved in the geeky technicalities that make it all work. That is the essence of why shared hosting is so popular that well over 90% of all websites are served from shared-hosting web service providers.
On shared hosting plans, you share your server's resources (bandwidth and storage space) with other customers on a first-come-first-served basis. To help better illustrate this example let's compare shared hosting to transportation via Uber. In this example, shared hosting is the equivalent of selecting their ride-sharing option. This mode of transportation comes with certain benefits, such as being more cost-effective than riding alone. However, since you're sharing the mode of transportation, it may be more efficient for your driver to make additional stops for other passengers first. As a result, the overall travel time to your destination gets increased.
What is the difference between Shared vs WordPress Hosting?
Many "website hosting companies" offer options featuring shared physical servers and shared cloud servers, and even shared WordPress hosting. The question is: What are the differences between them?
The three main shared hosting plans are:
Traditional shared,
Shared cloud, and
WordPress shared.
While all three have "shared" in the package name, they are each very unique. Let's weigh the pros and cons and see which types of websites benefit:
Traditional shared is where your website is hosted on a single server located at a server farm. Loading speeds tend to be slower for the most distant visitors, but for regional and local websites this is not a concern provided that you choose a server near you. In this case "near you" means in the same country or continent.
Shared Cloud webspace is where a "cloud" server hosts your website with multiple other websites. Most hosts rent web space with the largest providers such as Google and Amazon so that your website is always available on a whole network of servers. Files are copied around the network automatically in order to serve them quickly where they are most in demand. The is no such thing as a server physically located in a cloud! It is a concept, but a worthwhile one because your website will normally be received more quickly than with so-called "terrestrial" services.
WordPress shared hosting are normal/ traditional hosting plans set up for the website owner to create WordPress websites alone, in a very simple newbie-friendly way. The low-cost versions of this style of hosting plan may not allow full access to their own "root server" controls which more "geeky" users might want. However, these are generally very easy, even "one-lick-easy" to create a WordPress website and many website publishers will need no more.
Should customers on any of the above hosting plans find a need for additional services as their website grows, all customers are offered an easy upgrade to more sophisticated hosting plans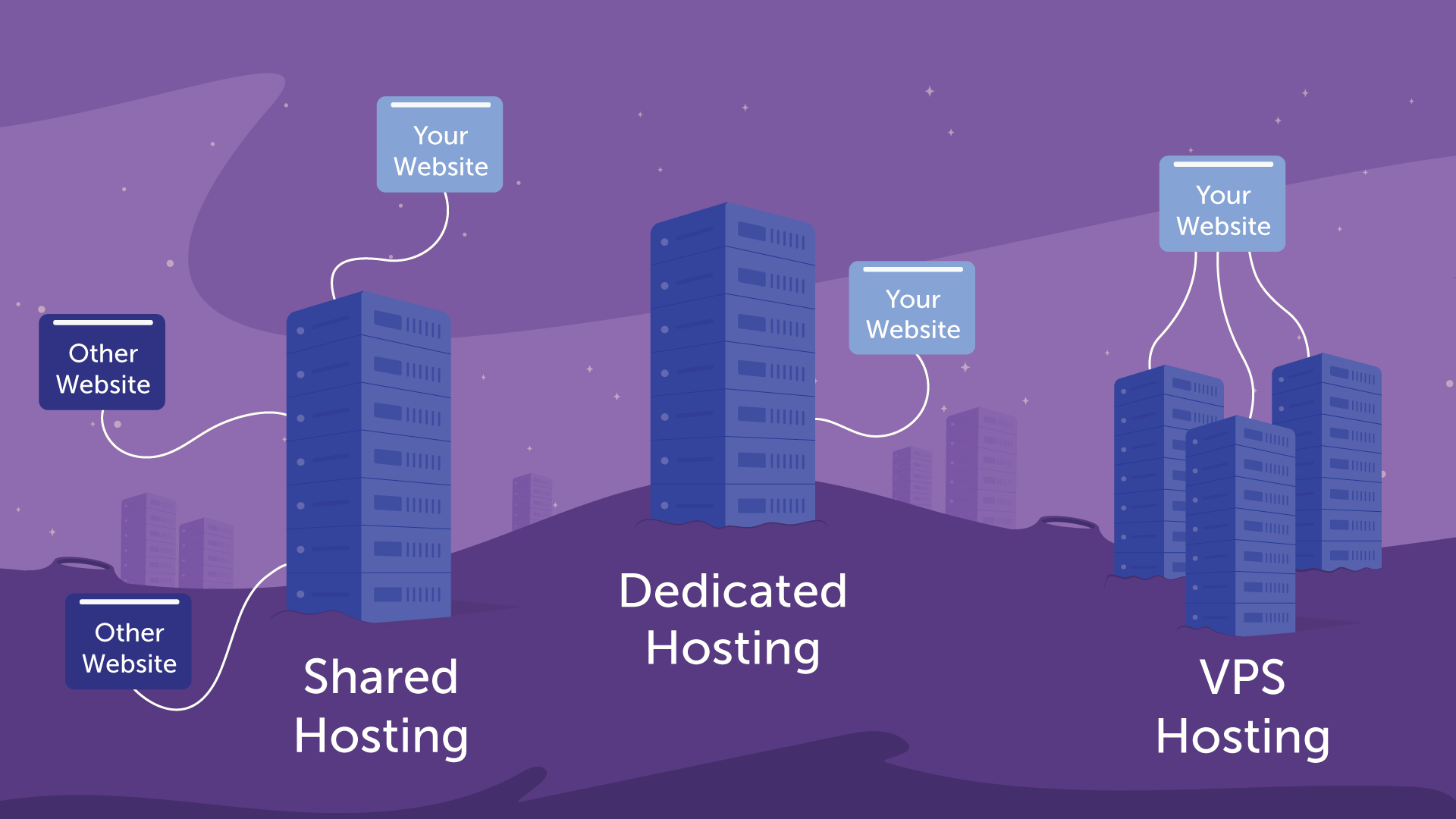 If you've poked your head around web hosting websites, you've likely seen the term "managed. " hosting can be unmanaged, semi-managed, or fully managed, and understanding the difference can be a major factor in what plan you choose. That said, it isn't as big a factor as the hosting type you get. Many shared plans, for example, are semi-managed, though the web host may not explicitly say so. In most cases, you only need to pay attention to this aspect if you're talking about WordPress-specific plans or VPS or dedicated hosting.
Our shared hosting packages have been specifically designed for single websites for individuals and small businesses that get 1,000 visitors or thereabouts per day.
At EZi-Gold Hosting we offer multiple hosting packages to suit your requirements. Visit here for more information and look for eZI-Gold hosting specials.
The difference between these packages is the amount of disk space offered as well as the number of add-on domains per account. The average WordPress website uses around 500mb – 1gb of disk space. However, if you host a lot of media files, such as photos and videos you may use much more.
What is the difference between Shared vs VPS Hosting?
What is the difference between shared, VPS, reseller hosting and Dedicated Servers?
1 – Shared server: you share the server space with other clients. Good to start with, but as your traffic grows you will need to move out to your own dedicated server.
2 – VPS (Virtual Private Server): is a server running a Virtual Operating System (OS) thus creating an environment that can accommodate your demands. e.g. A Windows Server can have a virtual server running Linux and you could host your domain/site on the Linux server.
Security is essential no matter what kind of website you own. Both hosting types are relatively secure and stable methods for hosting your site, but there are some differences. With shared hosting, your site might be affected when there's an error on another site. Also, if other sites eat up too much of the shared bandwidth, your website might get slowed down. This is especially crucial if your site hits high traffic numbers. You can avoid this problem by using VPS, as the partitioned servers make sure each website works accordingly. However, if you lack the technical knowledge of how to take care of your virtual private server you should consider your options. When poorly managed, it can lead to a whole bunch of other problems.
The key points of difference between the two can be boiled down largely to resources. In shared hosting, as the name suggests, the server's resources are shared between all the customers hosted on that particular server. On the other hand, a VPS, while technically being a part of a server, gives the impression of a dedicated server, thanks to its design. The advantage of VPS in terms of resources is that you'll have access to a higher number of resources for your own private use as compared to shared hosting. This allows greater flexibility to scale your website.
How Do I Get Started with Shared Hosting?
There is an enormous number of shared hosting providers that can be perfect for getting started online. Built on top of a reliable platform and backed by 24/7 expert support. Just one fairly ordinary example would be Bluehost's shared hosting which very many people use for blogs, hobbies, and even small business websites. But why not consider us? We offer EZi-Gold Hosting which we would say is just as good, but offered with a much more personal service! We are relatively small and we also house most of our websites on our hosting. That means that it is always well-maintained and up to date, we can assure you! Choose the plan that's right for you and get started quickly and easily with an EZI-Gold hosting! – our own hosting.
Going for a VPS hosting plan from the existing shared hosting plan? Choosing a VPS hosting provider is a difficult decision mainly because when you go through VPS companies each one of them offers almost the same kind of disk space, bandwidth, third party software, customer support, and money-back guarantee. I started my website on a shared hosting plan, but later mainly due to bandwidth and poor performance of the server, I had took the suggestion of going for VPS/dedicated plan to get better control and improved server performance.
The answer to this vital question is based on your website's needs and goals. We recommend using shared hosting if:
you want to launch your website quickly
you want to focus on getting your website live without worrying about server configuration,
If this describes you, shared hosting is the best option.
Shared hosting is also for you if:
You have a limited or restricted budget. As shared hosting is known to be the least expensive, it can be a great hosting package for getting started.
You want to grow over time. Starting with shared hosting can be a wise approach. When your website starts to grow, you can reach out to your hosting company to upgrade your account.
Shared Hosting Advanced Features
With Inmotion hosting, a mid-range shared hosting provider, getting your website online is quick and easy. You can install over 400 applications (such as WordPress or Drupal) with just one click. Inmotion hosting offers interesting features for advanced users, including SSH access.
Shared hosting is for those website owners who don't have the knowledge to manage and control everything. But this lack of sufficient control comes with its own drawbacks. There are limitations to the kind of scripting language and types of files that can be used. But if you don't want advanced applications and features to run on your site, shared web hosting could be an economical option.
Like most web hosting service providers, Siteground also has 3 shared hosting plans for you to choose from:
their first plan, the startup plan gets you:, 1 website, advanced priority WordPress support, pre-installed WordPress. Also: Website builder.
Are you wondering why Siteground's shared hosting pricing plans are a bit more costly than their competitors? It's because of Siteground's dedicated plugins that do a lot of the heavy lifting when it comes to ensuring WordPress runs efficiently and fast. They also provide a truly no-hassle way to apply entry-level website encryption for free.
How Do Microsoft Server Websites Work?
Asp stands for active server pages and it is a tool that was created and developed by Microsoft. Because of this, it is invaluable due to its ease of integration with other technologies. It makes creating your website simple by working seamlessly with other Microsoft-created tools. Developers and programmers like it because of having asp or asp. Net offers them the chance to build rich websites that are both dynamic and use various compiled languages like vb and c#. It's convenient and loaded with robust capabilities!
It does end up being more expensive than the open-source alternative used by the vast majority of websites, namely Linux Servers and WordPress both of which are free.
The use of the internet has therefore penetrated almost every sphere of urban life in all countries, including third world countries. A good percentage of people, use social networking sites to share ideas and communicate important messages on issues that affect their day-to-day lives. Most businesses in third world countries are now using the internet to run their affairs. This has been necessitated by the urge to remain competitive in the global market. The introduction of cheap web hosting services has, therefore, come at an opportune time. Cheap web hosting services have enabled most businesses to have websites. This is a good development since even growing businesses with limited cash flow can afford to advertise their services on the web and reach their target audience globally. Cheap web hosting services has seen the creation of many online businesses in developing countries.
The cloud is not just a place to store your pictures anymore. Utilizing the cloud allows your website to share server space with other websites, but with more than just one server. Instead, your website is attached to a network of different servers, allowing its data to transfer freely from one to another. Why is this a good thing? well, we've mentioned what can happen on a traditional shared server if another website gets a large traffic spike. With a shared cloud plan, this is a lot less likely to happen. If another site gets a traffic spike, your site's data just simply move to a different server that has space open for it.
What Is Microsoft SQL Server and Is Shared Hosting Right for My Site?
MySQL stands for Microsoft SQL Server. This is the Microsoft database system. Again, it is brought to you via Microsoft and works seamlessly with Windows shared web hosting solutions. To make building and maintaining a website as simple as possible on Microsoft Web Servers, MSsql databases provide dynamic content delivery. By using Microsoft products, users can have all the tools they need to build their brands and content online.
Shared hosting provides the most cost-effective hosting solution. With many people contributing to the costs of the server, the hosting company's costs are distributed between them. Basic plans start at around $30 a year while you can expect to pay over $300 a year for premium plans with unmetered disk space, unlimited bandwidth, and unlimited websites.
Why Is Shared Hosting More Affordable?
The base of any shared hosting plan is going to be the same: shared. But what is shared? Shared hosting means that one server will store data from multiple websites and that also means that the cost is shared. By sharing the cost these hosting plans are cheaper. These are the most popular types of plans because they are usually very cost-friendly.
Deliver your presence to your visitors now and in years to come when your needs grow. You'll find that shared hosting is flexible and that's another reason why it's such a popular option. Your account includes a set amount of disk space, monthly traffic, databases, FTP accounts, and more.
Our shared hosting package is designed to help your website succeed at the most affordable price. Whether you've got a tiny blog, a big eCommerce site, or anything in between, our hosting package will give you all the tools you need. Come try out our expert's decades of experience and top-notch support to find out for yourself why so many people choose EZI-Gold hosting.
Shared hosting, also sometimes referred to as virtual hosting, is a web hosting environment where each individual hosting account is stored on a single web server. Think of a web server as a very powerful computer loaded with resources. Each of the accounts on the server shares the server's system resources. These resources include disk space, data transfer, and server processing power. Shared hosting offers you an affordable solution to get your web site up and running because all the related server hosting costs are shared and spread out among the other users/accounts who are being hosted on that server.
Pick the Shared Hosting Plan That's Best for You
When you search with the keywords "best shared hosting", you will get a good number of sites with reviews and providers. But as a customer is it a wise decision to simply follow reviews and signup with a particular provider?
Before going for a shared or maybe even a VPS provider, make serious thoughts about the items featured in your plan. There are many things that need to be considered before a shared hosting customer begins even thinking about VPS plans.
When you are looking for a shared hosting plan, make sure you have certain uptime guarantees. The absolute minimum you should accept from a host is 99%.
Usually, website hosting plans are made to accommodate a large variety of website platforms. However, as you can guess, shared WordPress plans are specifically tailored for WordPress sites. The benefit of choosing this type of shared plan is that the support team handling your website's data is highly trained and skilled with WordPress. Having a support team that specializes in your website's platform allows for easier updates to plugins, optimized performance, and better security. While working with only WordPress sites might seem to be a detriment to a hosting company's business, clients seem to appreciate the streamlined security and support. That's why there has been increased interest in shared WordPress hosting recently.
DreamHost Shared Hosting Quick Start Guide
Shared hosting is usually the best option for small websites to get started. It's also the most affordable. Whether you are an experienced website developer or a local business startup, VPS hosting should absolutely be considered. When choosing a hosting package for a larger website, VPS hosting is excellent in providing reliability, speed, as well as customization. The main deciding factors between shared hosting and VPS hosting are the website's requirements, your technical understanding, and your budget.
A shared hosting provider is available with plans starting from $7. 95/month. Dreamhost offers Cpanel, 100% guaranteed uptime, their award-winning 24/7 available support, and 97 days money-back guarantee. With all this, you will get a free domain plus privacy if you will go with the annual plan. You can create unlimited custom email addresses with pop/IMAP/SMTP accounts. Free Let's Encrypt SSL Certificates are also included with every plan and all of your website's data will be stored in their SSDA which are 200% better in performance as compared to traditional hard drives. Also server side caching. Although Dreamhost servers are completely Linux based and they don't support Windows-based hosting as of now that will not be a problem if you are not going to use your server for development purposes.
How to Start a Website in 5 Minutes with WordPress
For startup businesses and personal websites, such as a WordPress blog, shared hosting provides the best and most cost-effective solution. Yes, you'll have to share your server and its resources with other websites but for most small businesses the limitations that come along with sharing these resources typically isn't a problem. For small businesses and larger websites, like e-commerce shops and online communities, VPS hosting will provide the flexibility and performance necessary for your continued growth. Yes, you're going to pay a bit more for the level of service provided by VPS hosting but this should be seen as an investment into your growing business.
Because of the highly-tuned nature of the setup, your website will be able to handle a much higher number of viewers with a managed WordPress host than it would be able to when running on shared hosting — although, keep in mind that many leading hosts, such as WP Engine, will have predefined limits on the number of monthly visitors your site will be able to accommodate before being subject to additional charges. Furthermore, if your site does start to outgrow the particular managed WordPress plan you've chosen, technicians will usually let you know you'll need to consider upgrading to a higher level of service.
SUMMARY
WordPress is the most widely used website platform in the market. And they only officially recommend three hosting partners to use with a WordPress site and Siteground is one of them.
The security risks on a shared server are higher, but it's more of a situation you need to keep an eye on as opposed to being a show stopper. As a business grows, however, the resources its website demands grow as well. As more traffic and transactions begin to strain a shared server, it's time to upgrade to the next tier of the hosting plans.
When you're selecting the shared hosting provider to host your website, the most important thing to consider is how the provider deals with overages. While most providers will offer unlimited bandwidth and storage, others might not. If your website gets incredibly busy and starts going over the CPU cycle limit, the provider might pull the plug, and suspend your account for the remainder of the month. It's your responsibility to know the limits of your plan, and you should also monitor your site to ensure that you don't break these limits. Some shared hosting providers will alert you when you're close to reaching the limit, and if you go over, they'll charge a fee to offset the costs. Others might also give you the option to immediately upgrade your plan, so your site remains up without interruption.
We offer a hosting package which we think beats even the best! Check out our hosting packages here! (Hint: We install WordPress for you! What could be easier than that!)